Class 10 Social Science (Geography) MCQs Chapter 3 – Water Resources
MCQs, Class 10 NCERT, Geography, Chapter – 3, Water Resources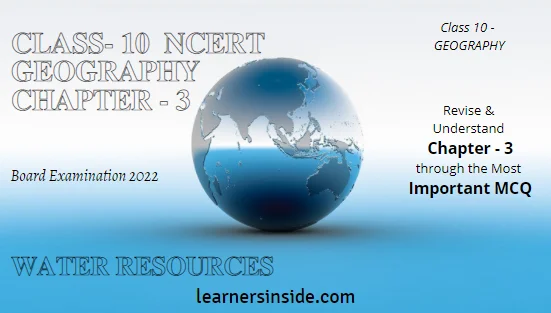 The most important questions for practice for the examination 2022.
Class 10 Geography, Chapter – 3, Water Resources
All the Best…!
Complete your Chapter – 3 (Water Resources)
All the best…!!
Your Test has been Started:- 
Do not forget to share with your friends.
Ganga River in Hindi: History, Route, Origin, Length, Tributaries, etc.
Pillars of Democracy: Meaning, Understanding, Countries Examples

Take a Test of the next chapter… and Boost up the score in the board examination through Geography Test Series.
Thank You for being here..! . so, please turn on your notification for the Instant Updates turn-on notifications, click on the 'ALLOW' button.
Mention your feedback in the comment box.